This site contains affiliate links to products. As an Amazon Associate, I earn money from qualifying purchases.
How to pick the best spa facial bed
Choosing a spa bed can be a daunting task. There are hundreds of styles available.  In this post, you will learn what you should look for in a spa bed, the best place to buy from and reviews on each bed.
I picked Amazon as the end shopping point for the beds because all the information about them is in one spot. They also have tons of reviews and questions about the beds, and I could sort them through to help me pick the best beds.
Fun fact. More and more Salon and Spa suppliers are selling on Amazon because of the ease of shipping and the number of buyers who have switched from buying supplies at the regular supplier to Amazon.
I still advocate that you should support local businesses as much as possible and purchase all professional products from traditional suppliers. However, when you are buying disposables and sundries, there is an opportunity to save money.
I recommend you check out the beds on Amazon and ask your favourite supplier for a list of beds they can provide you with.

Before I make any purchase, I am incredibly picky and must research every aspect. (Don't ask me how long it took me to book my last hotel room.) So, trust me when I say that I have put a lot of thought into this post. I've been working on it for a long time.
*Special note*
I'm writing this article geared towards my American readers. (because it is my biggest audience) If there is a better link for Canadians, I'll put it in the product review. Other countries may be able to purchase from the American links.
---
About my spa facial bed journey
Almost 12 years ago, I started in the spa industry as an esthetician. I opted to start my career working in a day spa. I knew this was the smartest option because I had 3 clients (diehard clients who followed me from beauty school practice clients to my new job because they liked my work)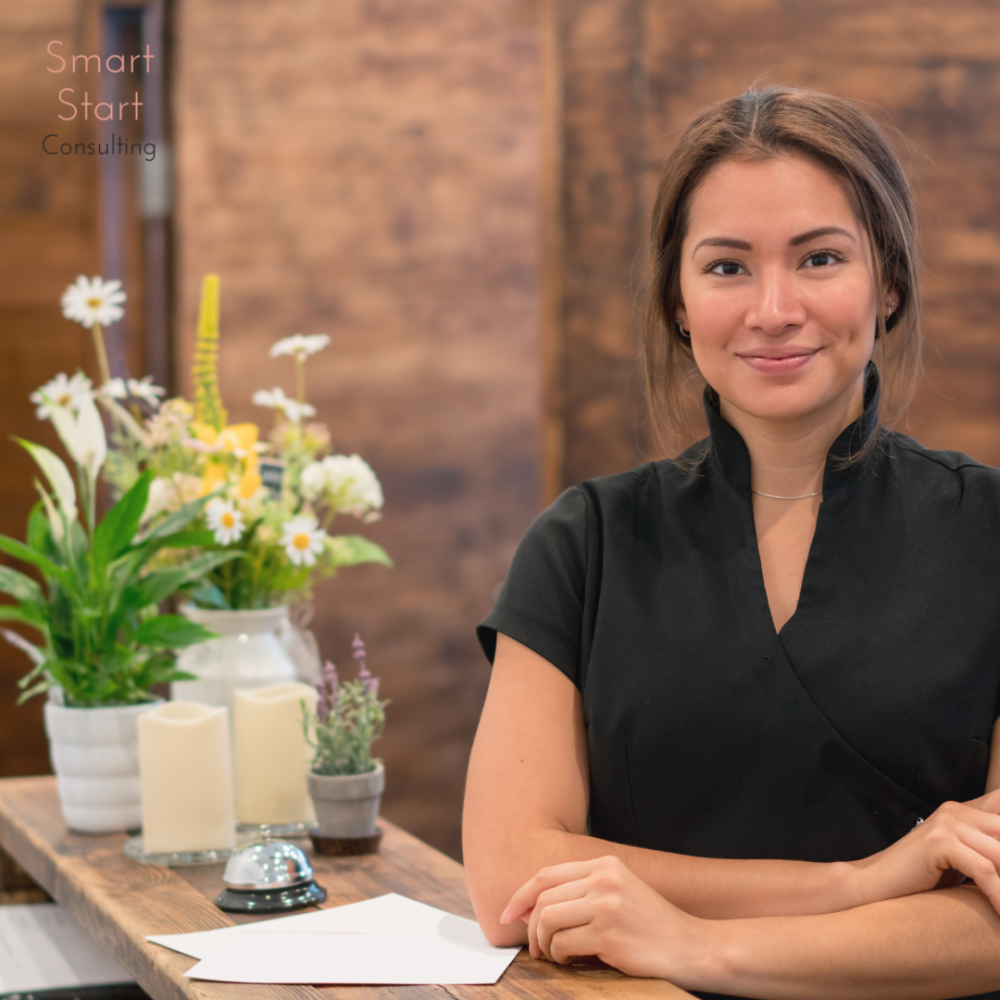 I knew that I couldn't afford to start working for myself right off the hop. The start-up costs and lack of clients were tremendous. For a while, it was great. I quickly grew a loyal following. I focused on practicing my services and perfecting them. I read oodles of books on customer service and sales.

After a couple of years and diligently saving every extra penny, I was ready to start on my own. I chose to rent a room out of a salon, taking advantage of the clients who were loyal to the hairstylists.
I had been stockpiling many necessities. Pretty much everything except the most significant piece of equipment I would need. A facial spa bed. I was lucky, though. The room I was renting came with one. It wouldn't have been my first pick, but it was better than nothing, and I knocked a few hundred bucks off my start-up costs.
---
Learning about spa facial beds
Now that I was working for myself, I contacted other estheticians to network. (Sounds weird. Aren't we all fighting each other for clients? That's a blog post for another day.)
I visited other spas and home-based businesses to share ideas about clients, products, sales and equipment. The friends I met were fantastic. We tried each other's equipment and products regularly. We shared the things that we loved about the items and the pain points they had. This way, we could find unique ideas and furniture and develop organizational solutions.
When I wasn't visiting with my networking friends, I was visiting other spas as a client. I often visited beauty schools as well (when you don't have much cash burning a hole in your pocket, you do what you have to do to get another person to give you a facial for once)
This allowed me to lie down on a lot of spa facial beds. I am one of those people who notices small details. Is the bed soft? Is there support under my legs? Is my neck sore from the pillow?
---
FAQ about spa facial beds
I have many other posts about supplies you might want to read later. Still, I want to share some information on the most expensive and significant piece of equipment. The spa facial bed!
There is a lot to think about when buying your spa facial bed. Here is a list of the most frequently asked questions that have come up.
•How high or how low does it go? Don't just think about your size. Think about your client's size too. Do you think a client who is 4'5 will have difficulty getting onto your bed? Also, think about a client with mobility issues. You have to find a balance between a comfortable height for your client and yourself. Remember, your client will need to get on the bed once a month for about an hour while you have to hunch over it and give multiple facials a day. Can you solve the problem by having a step stool handy? Read more about ergonomics here.


•Are the head, arms, feet or back adjustable? Do you need a flatbed? Or will you need to set the backrest up and the footrest down for a pedicure?
•How easy is it to clean? Make sure you buy a bed to use the proper sanitation products on it! TIP:  If you want to prevent the original table covering from wearing out due to cleaning and use, you can get a vinyl cover for very little. Click to see here.
•What am I using it for? Are you doing lashes, facials, pedicures or waxing? You would be surprised at how versatile these beds are, which is why they are one of the most valuable pieces of equipment.
•Can you easily replace parts? Things break. And it's nice to be able to purchase replacement parts or get the motors fixed. Do a quick search to ensure you can get replacement parts for the beds at the top of your wish list. Also, send in those warranty cards that sometimes come with products!
•How is it getting shipped to you? Have you ever bought something on a website and paid a massive shipping charge? Then, have it delivered, and FEDEX requires additional border services and duty payments? So annoying. If you are ordering from a manufacturer, you should email them if there are duty fees.
I order so much from Amazon because the shipping is usually really upfront. And most things are returnable. Also, some companies won't ship to PO boxes. Or, if the item is big enough, you may be forced to pick it up at a drop point. When in doubt, send an email to the company!
•What is the warranty? Check to see what the return policy is. What happens if the motor or another piece breaks?
•How comfortable is it for your clients? Most beds are pretty comfortable. The client usually only lays on it for a short time.  Maybe an hour or two. Sometimes, buying extra bolsters, pillows, or pads can be a quick fix.
•What does it cost? What is your budget? Is it worth having all the bells and whistles? Remember, depending on where you live, this could be a tax write-off! (save the detailed receipts) Check out this Amazon Visa Deal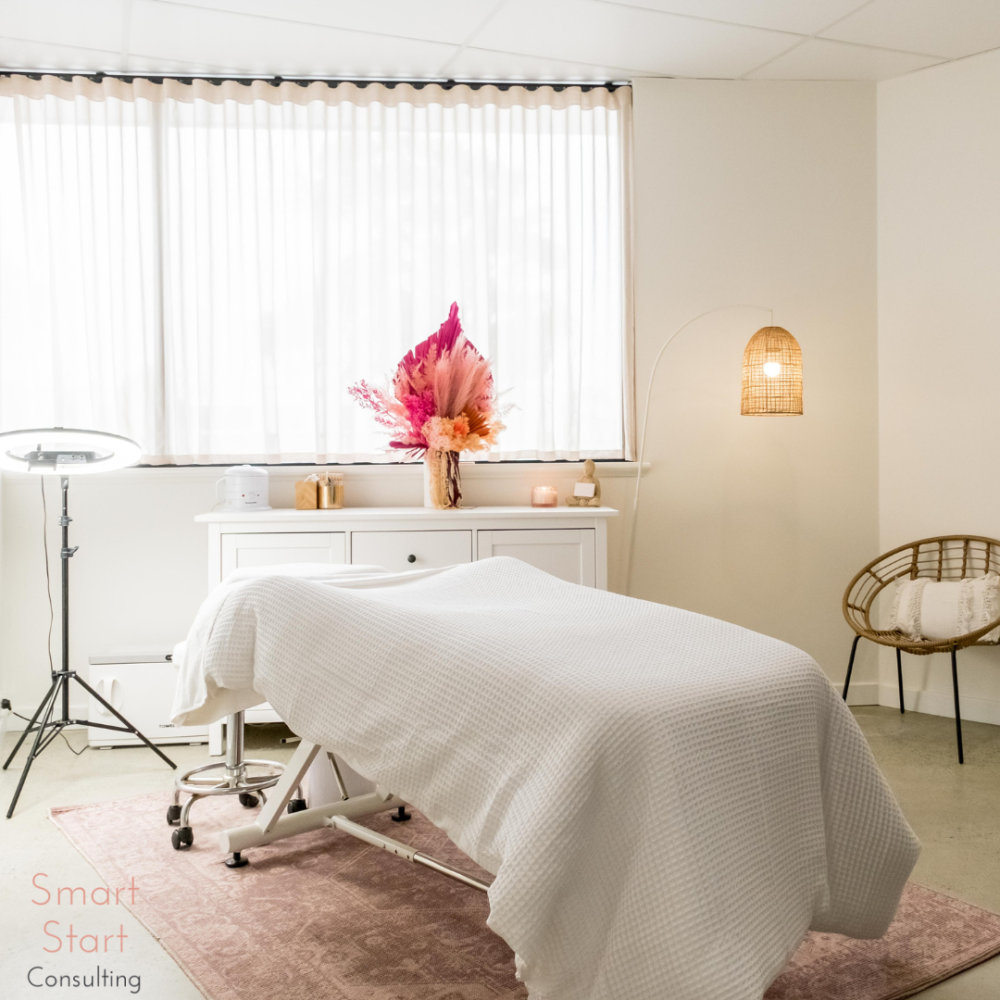 ---
Which spa facial bed should you choose?
When I quit renting a room from a salon, I purchased a basic massage table. I couldn't afford to buy a more versatile, fancy spa facial bed.
I wish someone would have told me that I should have bought a bed with electrically adjustable heights as soon as possible. I waited for two years. I didn't know that it would take a massive toll on my back. My first big purchase was a pedicure chair; I wish I had done it the other way around.
If you are starting and your budget is limited, then start with this section. But if you have the cash and are ready to make a more significant purchase, scroll down a bit.
---
Massage Tables
Generally, the starting massage beds are pretty basic and very inexpensive.  That's OK! I bought my first one off Amazon for $140. And it worked for what I needed. You can also spruce up a massage bed using pillows or bolsters to make it more comfortable for clients.
Massage beds all have the same pros and cons:
Pros:
Very cheap
Easily cleanable
Lightweight and easily packed away in a small space.
Cons:
They are flat.
They have no height adjustment.
---
⭐⭐⭐⭐Least expensive – BestMassage 73″ Standard bed
This is a great table for the price (Check the current price)
It comes with all the standard options (height adjustment, portable, PVC leather, etc. It has over 2000 reviews (most are positive). A couple of reviews mention defects ( rip in the handle, problems with the bag, and it feels less sturdy). Those were older reviews; I assume they have rectified them since the last 50+ reviews were all excellent. Also, this seller has a 30-Day money-back guarantee.
Special Note: If you are doing lashes or microblading, you can't really put your legs under the bed so you will want to pick another bed.
Click on the bed and scroll down to take a look at some of the other options or styles this bed comes in.

💲Money-back guarantee
➕Comes with accessories
Positions: Flat with Flexible headrest
Padding: 2" thick sponge
Size: 73″ Long 28″ Wide
Height: adjustable from 24″ to 34″ 
Weight capacity: 450lbs
---
⭐⭐⭐⭐Best larger clients-Master Massage

I found this bed after reading about dozens of beds on Amazon. This bed is very comfortable for clients, especially larger clients. It also comes with Reiki Panels and Shiatsu Cable Release. It has a lot of really great reviews! I've read through all the negative reviews. Some people have mentioned a smell from the bed (like chemical), and I wonder if it's because the material is oil, water and abrasion-resistant. I have also read that some have mentioned that the headrest feels flimsy. There is a manufacturer's warranty, but at the time I wrote this, I was still waiting on the information to arrive. It does say that it has a 5-year warranty.
💲5 Year Guarantee
➕Comes with accessories
Positions: Flat with Flexible headrest
Padding: 3-inch 3-layer Memory Foam
Size: 84″ Long 31″ Wide
Height: adjustable from 24″ to 34″
Weight capacity: 750lbs 😲
---
⭐⭐⭐⭐Best overall bed –Sierra Comfort
This is the bed that I had when I first started working from home. After a year, I never had any problems other than some wear and tear on the fabric. I assume it's because I use a hospital-grade disinfectant to clean the bed. There are very few bad reviews, but I don't see anything that comes up over and over. You sure can't beat the price.
💲2-Year Limited Warranty
➕Comes with accessories (Only fitted bottom sheet, face cushion sheet)
Positions: Flat with Flexible headrest
Padding: 2" High-Density Foam Deck
Size: 73″ Long 28″ Wide
Height: adjustable from 25.5″ to 33.5″
Weight capacity:400 lbs
---
Adjustable Spa Facial Beds
Facial beds all have a variety of pros and cons. I'll share each one and give my take on each bed. I own an electric bed, but I have laid down on almost every single type of facial bed out there. I have taught at schools and did one-on-one training at many spas, so I have had the opportunity to try nearly every single one.
Adjustable beds all have the same pros and cons:
Pros:
Better ergonomics
Adjustable
Easily cleanable
Sturdier
Cons:
More expensive
Heavy to move or lift
---
⭐⭐⭐⭐A step up from a flat bed- 3 fold bed
USA Price
I like this table because it has an adjustable backrest.  It also has PVC leather that is waterproof and oilproof. There was only one one-star review, and it was from 2018. It's just like a flat bed, but one section can fold up.
💲?
➕Comes with accessories 
Positions: 3 movable position
Padding: 2" sponge
Size: 84″ Long 32″ Wide
Height: adjustable from 25″ to 33″
Weight capacity:551lbs
⭐⭐⭐⭐Stationary Massage Spa Bed
There are many comments from lash technicians who like this bed. This is a trendy bed style, and I'm pretty sure everyone has been on one at some point. The height is not adjustable, but the table's head and foot move into various positions. The backrest can be reclined from 90°to 180°. The footrest can be reclined from 45°to 180°.
💲?
➕Comes with accessories (Stool)
Positions: Lay flat or adjustable head and foot positions
Padding: PVC Leather, High-Density Sponge
Size: 74″ Long 34″ Wide
Height: 31″ 
Weight capacity:375 lbs
---
CAN Price
Ok.  I was iffy about whether I would put this table on the list, but I know there will be many people considering it.  I worked in a spa for a few years that had this bed. It's a pretty standard length and thickness. The hydraulic lift was excellent and it swivels around.  But. You have to watch how it is positioned and how your client gets on it. If the table is not lined up with the bed, it will tip over. (You'll only let that happen once because you will be really paranoid after that.)  Once the client is on it, it's okay. This bed has very mixed reviews, so you should read through them yourself to see if this is the right bed for your service. Also, I find this bed short. Read all reviews here:https://amzn.to/37Vs7bi.
💲?
Positions: Lay flat or adjustable head and foot positions
Padding: Eco-leather covering
Size: 67″ Long 22″ Wide
Height: adjustable 23.4″-29.5″ high
Weight capacity:100 lbs
INSTALLATION VIDEO: https://www.youtube.com/watch?v=mJsgXhbeIP4
---
Electric Facial Tables
I have an electric spa facial bed right now. I wish I had purchased an electric bed right at the start of my career. I have had the same bed for seven years, and I love it. I have never had a problem with breakdowns, and It feels very sturdy. One thing is that it is cumbersome. You should put pads on the bottom if you need to move it around.
Adjustable beds all have the same pros and cons:
Pros:
Better ergonomics
Adjustable
Easily cleanable
Sturdier
Cons:
More expensive
Heavy to move or lift
---
CAN Price
This bed has the highest star reviews. It is incredible! After reading the reviews, there are many different types of services it is being used for.  I really like that there are hand and foot remotes to adjust the bed. It comes fully assembled out of the box.
Shipping via Freight with Delivery Notification and Curbside Delivery ONLY and NOT be bought inside your business or residence.
Replacement parts are available from the manufactures
💲 1-year warranty
Positions: Duo electro-hydraulic motor for height and reclining backrest adjustment.
Padding: High-density memory foam with high-grade faux leather
Size: 75″ Long 35″ Wide
Height: Adjustable  24 1.2″ to 34 1/2″
Weight capacity:400 lbs
---
⭐⭐⭐⭐INkBed
USA Price
CAN Price
This is another excellent option for an electric bed and is less expensive.  It has mixed reviews, but there is a really detailed review I think that anyone in the esthetics industry would like https://amzn.to/2UlCnFU. The bed does have to be put together and is shipped in 2 boxes.  Again, there are mixed reviews, just like most products. Some have mentioned that it is not "luxurious" comfort, but it is fine for waxing and tattoos.  This can be easily rectified with a table pad, though. I've been on this bed before, and it was comfortable. I like that there is a plugin in the bed, so if you had a heating pad, it would plug right into that.
Replacement parts are available from the manufactures
Amazon offers Pay $99.98/month for 6 months (plus S&H, tax) with 0% interest equal monthly payments when you're approved for an Amazon Store Card.
💲 1-year warranty
➕Matching Air-Lift Technician Stool
Positions: Duo electro-hydraulic motor for height and reclining backrest adjustment.
Padding: 4″ thick high density foam
Size: 72″ Long 32″ Wide
Height: Adjustable from 26″ to 31″ high 
Weight capacity:400 lbs
---
⭐⭐⭐⭐Mirrage Electric Spa Treatment Table

This bed was created for available for luxury collection resorts or high-end day spas and medispas. It also boasts a Whisper quiet motor. It would be excellent for anyone who needs an ultra-luxurious bed that is sturdy and doesn't need to move around. I didn't find reviews on Amazon, but I looked on several sites and found only positive reviews. I really like all of the storage under the bed, too. Replacement parts are available from the manufacturers.
💲 1-year warranty
➕Matching Air-Lift Technician Stool
Positions: Multiple adjustable positions
Padding: 6″ thick cushion
Size: 81″ Long 33″ Wide
Height: Adjustable 25″ – 33″
Weight capacity:500 lbs
---
⭐⭐⭐⭐Alva Monte Carlo
This is another luxury spa bed with a different shape.  The headrest can be extended, and the bed can also swivel. The bed itself can be lowered very close to the floor, which is a bonus! This one also has a reset button on the back that will bring the chair into a seated position with one push of the button. The only negative thing I have read about this bed is that you can't buy a custom cover for it. Also, it is not very long. Replacement parts are available from the manufacturers. Colours: Black, White or Coffee
💲 1-year warranty
Positions: Multiple adjustable positions
Padding:5″ layer of soft, comfortable Ultra Plush Cushion
Size: 64″ Long 22″ Wide
Height: Adjustable 25″ – 33″
Weight capacity:500 lbs
---
Accessories
Even if you have the perfect table, you might need to stock up on some essential accessories. Take a look at some of my favourites.
If you want other salon essentials, check out our blog post: Essentials for starting your home-based esthetics business.