Custom Salon & Spa Business Cards
We know it's hard to choose business cards, service cards, posters and all the little things in for your business.
 It is incredibly important to create consistency in your brand and to present your clients with quality professional business materials. Get the best quality affordable business cards for salons & spas.
In this post, I'll share designs, link to templates, and share information on what you can do with business cards.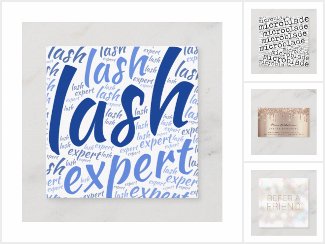 We are proud to partner with Zazzle who p
r
ovides top-quality business resources. Zazzle is an American online marketplace that allows designers and customers to create their own products with independent manufacturers (clothing, posters, etc.), as well as use images from participating companies.
We have created and compiled a variety of template products that will make a beautiful addition to your business.  It's easy to create and an entire collection of quality custom spa and salon business products.
---
"Although we're working in paperless offices more and more, the humble business card is still a mainstay of business. If you haven't got a card you can give out to prospective clients or collaborators, you're missing out on a key marketing opportunity". –Creative Bloq

---
  

Business cards are the best marketing return on investment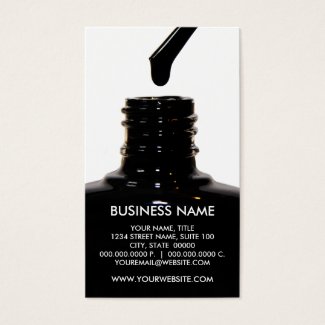 Start with a pack of 500 because you will want to give out a lot in the beginning. The following tips will help you get the most out of your business cards:
Always keep a stack of cards in your purse or car.

Don't be afraid to approach someone and compliment them on their nails or hair and tell them that if they are ever in need of a new stylist, beautician (or whatever your business is), to contact you.

If you're in a professional setting always ask someone for their business card first before you hand them yours.  

If you can, make them a unique shape, size, or texture so they stand out.                                               
"For all their wonderful designs, business card templates should be looked at for what they really are: very effective advertising tools that can help you get more leads, clients, and revenue". –Creative Market-
Don't forget business cards can be made into a wide variety of marketing materials.  You can make them into referral cards, discount cards, loyalty cards, aftercare instructions, or even ballot entries.
---
Where do you get the best quality affordable business cards for salons & spas?
We've gone through and found some examples of the perfect business cards, loyalty cards, referral cards and more! The cards here are all customizable and really easy to order. 
Take a look at our customizable business cards here—>>
Looking for some free design elements for your business cards? 
Try Creative Market! 
Powered by Creative Market. Creative Market is the world's marketplace for design. Bring your creative projects to life with ready-to-use design assets from independent creators around the world.
Try Canva!
Canva has a lot of free designing options! Get the look you want without the hassle. Start with a template, add your details, and get professional results in minutes. Our drag-and-drop business card maker means anyone can create stunning business cards—no design experience necessary. That's why millions of people worldwide trust Canva's business card maker to help them look professional.
---
Not sure where to put your business cards?  
Leave 2 or 3 of your new affordable business cards in each of these locations:
Gym

School teachers lounge

Apartment building mailboxes

All houses or businesses with a 20 block radius

Street festivals

Marathon race packages

In your Avon Ladies catalogues (or like

mlm

rep)

Church

Hotel racks

Local restaurants

Doctors/Dentists offices

Seniors complexes

Dance studio

Nightclub bathrooms

Every store at the mall

Vehicle maintenance shops

Local businesses who will put them in their shopping bags

University or college

Bridal stores

Children's activity centers

On the table when you leave a restaurant or coffee shop

Under cars windshields

Local real estate offices

Places that have bulletin boards to put service 

cards on:

Church

Library

Grocery store

Daycare center

Dog park

City notice boards at local parks

Community Center

Hospital cafeteria

Drugstore

Suppliers

Restaurant

Banks

Gyms

Doctors offices
---
---