This site contains affiliate links to products. As an Amazon Associate, I earn money from qualifying purchases.
Cutting costs for home-based salons and spas
If you can't raise your prices, how do you increase your salon or spa profits? You cut costs. If you are a small business, you have to learn how to cut costs to stay profitable. You'll be surprised at some of the short cuts you can make to keep more money in your pocket.
VoIP
If you still need to keep a separate business phone from your personal phone, VOIP might be perfect for you! One of the easiest cost cuttings I found was when I switched from a landline to a VoIP system. I was paying almost $40 per month for the phone line. My VoIP cost initially $70, which included setting up and keeping the same number. Then it's about $40 per year after that.
Cell phone/ Internet
When is the last time you checked your actual cell phone and internet fees? Find the previous six months of each bill. Average out how much you are using in terms of data, minutes and texting. You may be paying too much by being set up under a package that is way too big! You can call your provider and ask to switch packages.
You can also price shop and look at other service providers who might offer a better deal to cut costs.
Advertising
Do you pay for advertising? Try cutting off all paid forms of advertising you are doing and start focusing on free advertising and building a referral system.
Referrals are the most valuable form of advertising and can be done for free. Just ask your clients to refer their friends and family. You can also add an incentive such as $10 off their next service for every referral they bring in.
Social media is one way to advertise for free. Take advantage of all the social media platforms to get your name out there. We have a great article that will show you how "6 easy ways to grow your online presence."
Check out this free Social media Cheatsheet
Try to engage current customers rather than finding new customers. It is easier to retain and engage an existing client than it is to find a new client. To find unique ways to get repeat customers, read "How to build repeat clients for next to nothing."
Core supply costs
Do you buy all your supplies at the designated beauty supplier or industry supplier? Price shopping suppliers can be a way to cut costs in your business.  Keep a list of supplies that you use.  Find the best price and the second-best price for each item at your regular suppliers.
Sign up for email blasts at all the supply stores so you get notified of any sales.  If there is a huge discount on one of your products purchase enough for 3 months.  To learn more about cutting costs on supplies read the article " Waxing supplies"  Even if you don't use waxing supplies you will learn other ways to save money)
Cash/Check/E-transfer/Credit Cards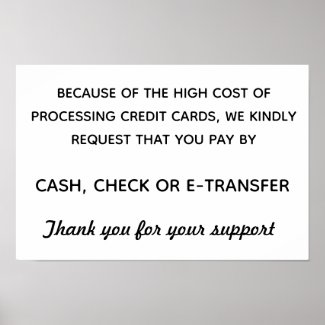 Do you take credit cards? Let your clients know that you PREFER Cash, checks and e-transfers over credit cards. Explain the high fees that you have to pay to process a credit card. State this on your website, as well as your social media. You can also post a little sign at the checkout. In some countries, you can even charge a fee to process credit cards.

Insurance
Check out your insurance.  You can get a free quote from other companies.  You might be surprised at some of the price differences.  Hiscox gives free quotes, so you should give it a try! 
Accounting Fees
Accounting can be a significant expense. If you are interested in seeing just how easy doing your accounting and books is take a look at this blog post.
Manage your own website
Just thinking about managing your business website can be daunting. But it's straightforward. I wrote this blog post to show you just how simple it is.
---
Other popular blog posts:
Our Incredible List of Business Building Resources
Podcasts for the Beauty Business Industry