Loyalty programs and cards for spas
When I first started my business ten years ago, I was struggling with filling my books. I didn't want to heavily discount my services to try to "win "clients. I wanted high-quality clients, not discount shoppers.
After just a short time, I discovered a trick to building my list and keeping those clients coming back for more. I gave out loyalty cards. My first card programs weren't "beautiful" I designed it and had it printed, and it worked!
You can do this too! Just read below to discover some of the benefits to loyalty programs and how they can help build your business.
---
Psst.  Click on any of the cards to be taken to our collection of templates.
---
Businesses are always looking for ways to attract new customers. Companies should spend just as much energy looking for ways to retain their current customers.
According to Business News Daily, keeping an existing customer costs between 3 and 10 times less than attracting a new one.
So beyond offering a great product combined with excellent service, what can businesses do to encourage customer retention? One of the easiest and least expensive methods is to provide a loyalty program.
---
What is a loyalty program or reward card?
Let's dive right in…
Loyalty or reward cards are cards, punch passes, or online apps that reward a customer for the purchases they make from a business.  
An example is a pizza place that offers a punch card where after you purchase 10 large pizzas, your 11th is free. Each time you visit the restaurant, a staff member will punch your card for each large pizza you order. When your card has 10 punches, you present it to a staff member for a free large pizza. That might be the simplest example of a loyalty card.
Businesses have gotten creative in recent years in how they choose to reward their customers.
From a business standpoint, a loyalty program for spas is a marketing strategy designed to encourage customers to continue to shop at or use the services of the business offering the card.
---
🎧Listen to a great podcast on customer loyalty
Creating a Customer Loyalty Program with Elizabeth Presher
---
Why you need a loyalty card at your spa
There is heavy competition for customers in the salon and spa market, with many companies all offering similar services within a short driving distance. The salons and spas that can attract the most repeat business will have a significant advantage over the competition.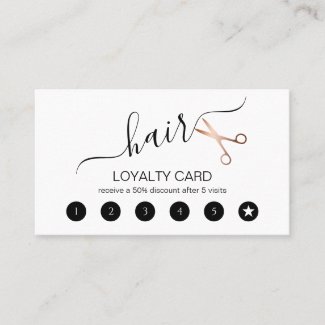 Why should you use loyalty cards in your business?
Loyalty cards should be a part of your marketing strategy because they have been proven to be a cost-effective way to retain customers.
According to a 2013 study by Nielsen:
•as many as 84% of customers say they are more likely to stay with a brand that offers a loyalty program.
• 66% of customers said the ability to earn rewards changes their spending behaviour.
So not only are you more likely to retain a customer by offering a loyalty card, but that customer is also more likely to spend more money at your business because of the perks offered by your loyalty card.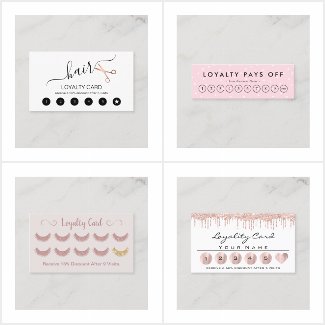 Why clients spend more
The reason customers are likely to spend more with a loyalty card is a social psychology phenomenon known as reciprocity. Reciprocity is a social norm of responding to a positive action with another positive action.
Customers will appreciate the discounts or free items they receive from your business and seek to return the favour. Returning the favour could be buying more items from your business than they did previously, referring your company to others, or visiting your store more often.
It is also important to note that customers today expect more than just excellent customer service from a business. They also want to feel valued or appreciated by that business for the purchase they have made.
It is not enough to have a staff full of friendly, knowledgeable professionals anymore; customers expect something extra to show that you value their business.
A loyalty card is a great way to show customers you appreciate them. This gives them a chance to earn discounts and free items or services in exchange for their business support.
*

54% of respondents report they would consider spending more with a business in exchange for loyalty rewards
*46% of shoppers report they have already increased their amount of business with a company because of the loyalty rewards it offered
* 80% of your future profits will come from just 20% of your existing customers
*Attracting those new customers; who will only make up 35% of your business, could cost up to 16 times what it costs to retain your current customers
*As many as 96% of Millennials are described as incredibly likely to take advantage of loyalty programs
*68% of Millennials say they will not be loyal to a brand that does not feature an active loyalty program
You can also offer a discount on products just for showing their card. If a client can earn something of value from your loyalty program by returning to your salon or spending X number of dollars on your website, they are more likely to do business with you than "start over.
These incentives make clients feel appreciated and valued by your business, which are keys to earning loyalty. A happy, loyal customer will be much more likely to leave positive reviews on social media and give word of mouth referrals to their friends.
There is no better marketing for your business than satisfied clients telling their friends how much they love your company.
---
Examples of loyalty programs for spas and salons
If you are struggling to figure out what kind of loyalty program you should run, you should look at the service's cost or item you want to give away. Figure out what you can afford to give away. The full cost of the item or service? Or do you want to cover just the cost but not the mark up of the item or service?
Some examples are:
Buy 9 shampoos get one free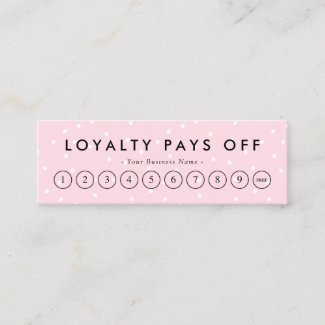 Buy 5 facials get the 6th at 20% off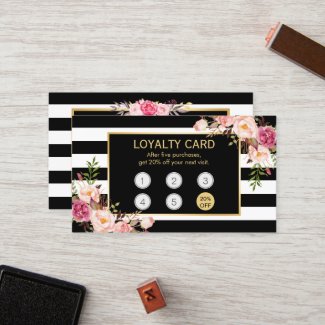 Spend $100 in facial products get one eye serum for free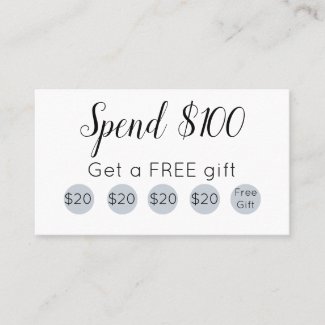 The possibilities are endless. Take a look at some of the examples on Zazzle
•Paper punch
This is the traditional type of loyalty card where the customer receives a paper card and receives a reward of some kind, such as a free item or service after a set number of punches. If you are interested in creating a loyalty card or are looking for card templates for your program, a site like Zazzle can help create a punch card for your business. You can choose 1000's of premade designs that you can add your business information or design your own. You should also invest in a unique puncher to avoid misuse.
•Credit Card Style
It looks exactly like a credit card and is presented by the customer to be scanned at your business. The advantage of the card for the company is you can easily track a customer's spending habits enabling you to market to their tastes.
•Phone Apps
This is becoming the most popular way to create a loyalty program and the strong preference of Millennial consumers.
The great thing about an app is that it can be built to allow your customers to earn rewards points for advocating for your business, or providing valuable feedback, in addition to rewarding them for making purchases.
For example, the app can offer reward points to the consumer for writing a review of a new product or service your spa has recently added. The increased social interaction that an app provides will likely prove to be very valuable to your business.

If you are looking to build an app, Appy Pie allows you to make a loyalty app. You can make it to your specifications without the need to know how to code. Appy Pie offers a free 14-day trial, so it is a great way to test what a loyalty app can do for your business.
Examples of popular punch cards
(click on a picture to see other styles)
Attracting new customers is both robust and expensive for any business. Creating loyalty programs for spas and salons are a far better marketing plan to retain those customers than to get new ones.
The customers of today are more demanding than ever. They expect more than a great product or service to be loyal to the brand. This is especially true, for Millennials who are becoming the key demographic for many spa and salon services.
---
Conclusion
Whether you choose to use a traditional punch card or the increasingly common app, customers feel valued.  Loyalty programs for spas are designed to reward (and entice) current customers to return to your business.
Don't forget to check the fine print in your area and add it to your cards!
Learn more about customer service value with our blog post Increasing service value or How to build repeat clients for next to nothing.
Sources
"Advantages of Loyalty Cards for Business Marketing." Hackworth, 31 Aug. 2018,
"5 Reasons Why You Should Have a Customer Loyalty Program." 21 July 2016, .Peacock, Lindsey.
"10 Examples of Innovative Customer Loyalty Programs" 4 September 2018Miller, Grace.
"32 Loyalty Program Statistics That Will Make You Rethink Marketing" www.annexcloud.com