Client Appreciation Gifts
This site contains affiliate links to products. As an Amazon Associate, I earn money from qualifying purchases.
If you're like me, you like to spoil your clients every once and a while. I want to give out small client appreciation gifts for Christmas, Valentine's, birthdays, business anniversaries and new client gifts. Everyone likes getting presents. 
My clients love the surprises and have even told me it adds to their loyalty to me. After being in the business for 11 years, I have given out hundreds of gifts. I want to share some of the ideas I have used and how I have saved money.
The actual client appreciation gifts ideas were probably the hardest to come up with. I picked up sample sizes at the beauty suppliers for the longest time, but that quickly became costly. I do keep a few of the samples on hand, but I only give them to clients with specific needs that I hope will purchase that retail item in the future.
These are some of the great ideas I found.  A lot of these I have purchased myself for my clients. 
(Not all products may be available in some countries)
Some of these gifts come from the Amazon Handmade market, so you may want to order early!
•The Top selling Client gifts:




•Personalized gifts
These lip balms have been selling like crazy.
Completely customizable!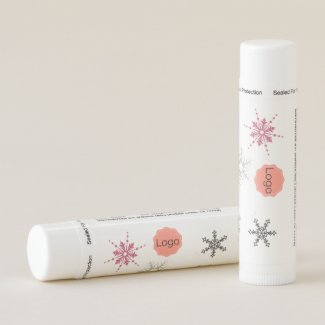 Customized products are an excellent idea for client gifts. Zazzle has several small business items that can be customized with your business logo and information. These are our favourite products:
•
Check out local suppliers for more great discounts.  They will probably have bulk items on sale a month or two before Christmas!
•
Don't forget to put your business stickers on each item so that when your client pulls them out, they are reminded that they are from you.
•Discount Cards
If you just want to give out a card, you could try these ones from Zazzle.  I give my clients 6.  They can keep two and give out 5 to their friends. 
When their friends come in, I ask them who gave them the card, and then I give the original client an extra $10 off for every person who redeems the card.  I have mine set at $10, but you can change that to reflect any price point.  The least amount anyone has ever come in for is a $50 service. And you gain a new client!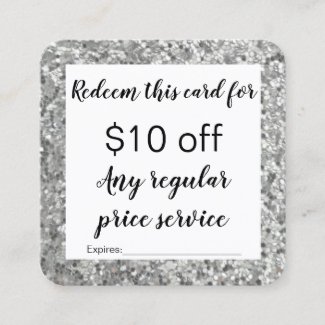 Glitter looking Discount coupon card
No matter what you pick, I'm sure your clients will love them. Any gift you give them will increase their loyalty to you. If you looking for other items that you want personalized, check out our design store- Zazzle 
•Supplies to keep on hand for packaging client gifts:
I want to start with a few things I always keep on hand. You may already have some of these, but most you can pick up in the city or order online if you are a one-stop shopper.
•Bulk roll of ribbon I buy these in my business colours and keep that on hand at all times. I get mine from Gales wholesale in Regina, but you can check out any craft store or Amazon. Also, you can have a ribbon made with your business logo on it! I get this ribbon from Zazzle. I use this ribbon to wrap packages, attach gift cards to gifts and more.
•Stickers with your logo and business information are super important too. I used to order them from Vistaprint, but I have found better quality through Zazzle. And if you keep your eye out, Zazzle has quite a few sales, so the price is comparable.
•Cellophane bags in assorted sizes come in handy. I also usually get these at Gales wholesale. You can fill these bags with gifts, candies, snack mix, gum, cookies or just about anything.  A quick search on Amazoncame up with hundreds of options too.
You can also get custom-printed gift tags, custom-printed tissue paper, and custom wrapping paper.