Gifts for Nail Technicians
nail-technician
Noun
A person who applies and maintains nail products on natural nails to enhance their look.
---
I know how hard it can be to find the perfect gift for nail technicians.  I have looked everywhere. You certainly can't find them at Walmart.  You might be able to find them at a craft show.  But do you want to go to a craft show?
Here we will give you some ideas for you to get that special nail tech in your life an awesome gift. Many of these gifts can be customized with your loved ones name on it. If you find something interesting that you think should be added to the list please let me know.
Just a note though.  Before purchasing a gift, do a little investigating.  Ask your nail tech's friends, family or coworkers what they think they would like as a gift.  If you do choose a customized gift double check your spelling. Also, make sure you check the estimated delivery time for gifts in the mail.
These are our Top Gifts for Nail Techs!
TIP:  Bookmark this page on your loved one's computer 🙂
Some of these gifts come from the Amazon Handmade market so you may want to order early!
Click on each picture to be taken to the product page.

Nail Tech Charm Ornament
These Nail Tech silver holiday tree ornaments arrive beautifully presented in a gift-ready black fabric pouch and make a thoughtful gift for yourself or another special someone.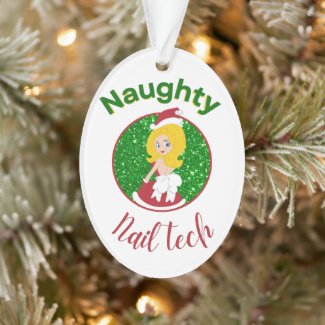 Naughty Nail Tech Ornament
A cute gift for a nail tech. Customize to suit your needs. Customize and edit this item or transfer the design to another product. Order multiple for discounts
The perfect gift for a nail tech. This adorable 17 oz stemless wine glass is laser etched and dishwasher safe.
I Do Nails Nail Tech Cosmetology Apron
This stylish black bib apron with an adjustable neck, long ties and pocket is an excellent gift idea. It also has rhinestones and all nail techs love rhinestones.
Nail Tech Bracelet
This bracelet is a special way to show your support or gratitude for the manicurist and nail stylists in your life.

Wake up drink coffee do nails Long Sleeve T-Shirt
This is perfect for any nail artist manicurist nail lover or tech to wear. If you are interested it more shirt syles check out this blog post.

Nail tech gift wooden box sign
The perfect and unique gift for anyone in the nails industry. You can even design your own! 

World's Best Nail Technician Stainless Steel Water Bottle
Chances are that your Nail Tech has one of these reusable water bottles near their desk.  One of these would make a great gift.  Or you can design your own!

World's best nail technician snowflake pewter Christmas ornament
Such a cute gift for your nail tech. This is a top-quality ornament and is available in a variety of styles or you can create your own.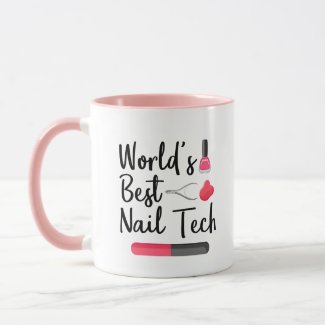 World's best nail tech mug
A wonderful gift for the World's Best Nail tech. You can even customize it with a name. To see more mug styles, click here!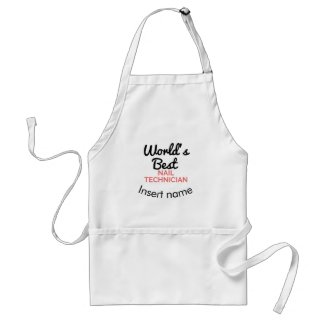 World's Best Nail Technician Adult Apron

World's best nail technician wristwatch
The gal who does your nails does a fantastic job. Show her how much you care with this perfect gift.

Customizable gift for nail tech glass
Add your loved ones' name or place the image on another product!
These are my top Amazon picks for Nail Tech Gifts
Customizable Nail Tech Ornaments
*and other industries
Make your own gift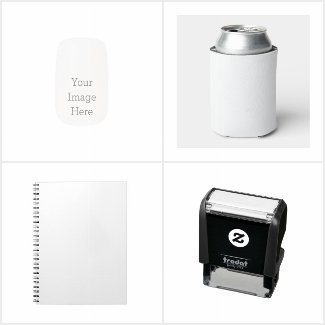 If you are interested in making your own gift, try our partner site Zazzle. There are so many options to choose from.
The right gift for a nail tech can be difficult to find. Use this gift guide to help you decide on one. We also have a great selection of nail art supplies which would also make a great gift.