Essentials for starting your esthetics business
->Top items you need to start working from home and where to get them<-
This site contains affiliate links to products. As an Amazon Associate, I earn money from qualifying purchases.
Are you starting your esthetics or spa business from home? Are you considering room renting for your new business venture? Then this blog post is for you.
When starting your business, it can be overwhelming to think about the number of supplies you need to start your home-based esthetics business. It can also be daunting to think about the money you have to spend initially.  
I've been there.  I know what it's like to have those feelings, so I want to help guide you on your journey.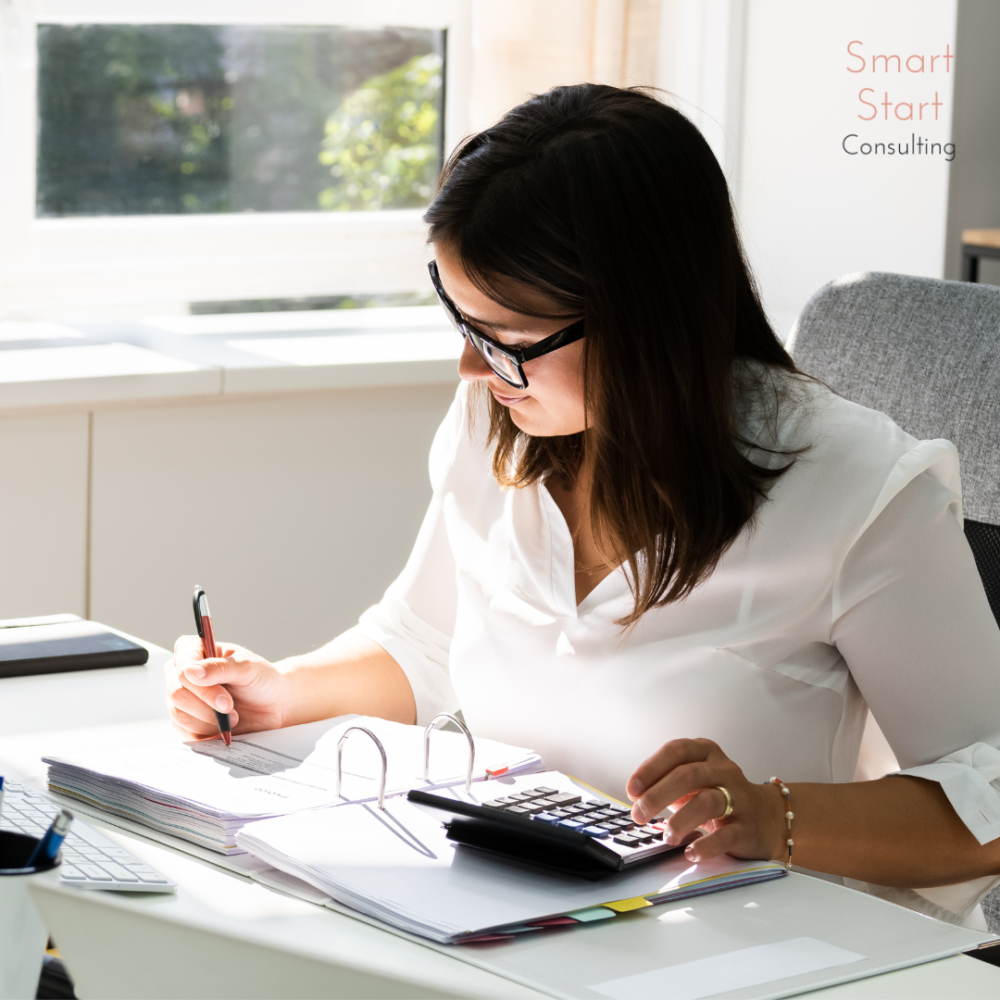 Let's get started!
[lwptoc]
Important note:
•Keep every receipt for your accounting and taxes. Have an envelope to keep the receipts in.  If it's an online purchase, make a special file on your desktop to move the receipts into.
•You should still price shop and compare it to your local supplier.  I want to advocate that you try to shop locally, but many estheticians starting in small towns can't always drive to the local supplier.  Some suppliers do deliver, so keep that in mind too.
Essentials for starting your esthetics business
Some items may not be available in your country. If an item is not available, I may have substituted it.
---
The following are more in-depth notes about some of the more significant pieces you will need to purchase.
---
Package Deals
If you need everything, you might want to consider a package deal.
LCL Beauty 9 in 1 Multifunction Facial Machine with Stationary Bed<-  Click here
Skin Intensify Professional Series Complete Skin Care Package, Matching Pneumatic Technician Stool, 6 Microfiber Facial Towels, Mag Lamp, Wood's Lamp, Utility Bowl and 1 Year manufacturer's warranty
---
LCL Beauty 2 in-1 High Frequency & Facial Steamer Multifunction Machine (Stationary Facial Bed)
This professional-grade facial machine package includes High Frequency & Facial Steamer, 4 Glass Attachments, and 1 Year Warranty.
---
Individual salon and spa equipment
•Desks 
A suitable desk that fits you correctly is essential to doing business. When choosing a desk, keep in mind the storage options. If you don't have a lot of storage in your new workspace, look at a desk with many cupboards and storage. You also might want one with a built-in fan or spot for a nail lamp if you do nails.
These are a few of my all-time favourite desks:

"The beginner's desk" – I like this desk because it is inexpensive. It's on wheels, so you can easily move it around your room if you have a tight space. The downside to the table is that the only storage is the small drawer.  This is a 5-star review from a cosmetologist. It is available in black or white.
Check this Deal: Get a $50 Amazon Gift Card instantly upon approval for the Amazon Rewards Visa Card. No annual fee. You'll probably get the table for less than $50!
"Middle of the pack" I like this one because of its high ratings, and it is equipped with an electric downdraft vent that can help collect nail dust. Besides, designed with rolling wheels, it can be pushed around pretty easily. And it comes with a LED lamp which can also offer you a clear view during work. This is a link to a review with a video showing the sound of the vent.

"What to do if your really short table"  I have this problem.  I had to find a table that was short enough to cut the legs off by 2 inches.  I also decorated it with peel-and-stick tiles to make cleaning easier.  When my clients and fellow estheticians asked about it, I reminded them that I am the one sitting at it for 8 hours and that they only had to tolerate it for 2 hours.  For this reason, I purchased comfortable and adjustable chairs for my clients and me."  
To read more about some of our favourite nail desks and check out the comparisons, read this in-depth post.
---
•Esthetics Facial Spa Bed
 Get an electronically adjustable bed right off the start if you can afford it. If you are just starting, you may have to choose a stationary bed because they are inexpensive. One thing I have found about the beds is that you should check the nuts and bolts every once and a while to tighten them. They come loose from the constant adjustments.
"The electric bed" I have the older version of this bed and have had it for a few years, and I love it. It's held up well, and the material has no cracks. I haven't had any problems with the electrical either. I wish I had purchased this bed at the beginning of my career! There are so many 5-star reviews on this!
"The everyday basic bed" is excellent if you can't afford an electric one.  Its height is not adjustable, but the head and foot portions are.  I worked in a place with one of these beds, and it was fine.  Comes with a stool as well.
"The least expensive" This bed is height adjustable, portable, and inexpensive. It's a great option if you are just starting and are on a minimal budget. It also comes in another colour and is easily resellable if you can upgrade your bed later. 
If you want to know more about spa beds and check comparisons, check out our in-depth blog post here ->>
---
•Work Chair
It is crucial to choose a chair that is adjustable and rolls easily. Also, you will want to choose one that can easily be cleaned.
---
"The basic"  This is a great adjustable chair with a back on it. It is easy to clean and rolls smoothly on the floor.
"The deluxe" I like this chair because it comes in 5 colours, is easily cleanable and is on wheels. It has a tilt lock mechanism offers a comfortable rocking/reclining motion. I have this one for both my client and me. If the wheels break, you can find replacements on Amazon too. 

"The uber ergonomic"If you intend to sit all day at your nail desk, you might want to try an ergonomic specialty chair. I have never used one, but I know several nail techs who swear by them. I like this one because you can easily clean it.
---
•Wax Cart/Utility Trolly
A trolley with good wheels makes your life a lot easier. If you can, choose a metal one that is easy to clean and has storage. Try to find one with larger wheels to move around quickly.
3-Tier Rolling Metal Storage Organizer– I have this "Ikea Like"one and have had it for 7 years. Costco had similar ones too. I can not live without mine! You can also get them on Amazon. It rolls smoothly and is very sturdy.  It comes in multiple colours.
"The roll about cart"– I like this one because of all the storage solutions.  I also really like the adjustable storage trays. It is a traditional salon trolly.
---
•Wax pots
GiGi Multi-Purpose Hair Removal Wax Warmer Kit -Anyone looking for professional results knows the value of quality and reliable wax warmers. It comes in an 8 and 14-ounce capacity that accommodates most wax containers and warms all hair removal wax formulas.

Professional Electric Wax Heater– Available in a single or double pot.  This metal wax pot is very durable and sturdy.  It is of excellent quality.
---
•Towels
After plenty of towel mishaps, I can tell you that professional salon towels are the best. Regular home towels don't cut and fall apart.

Eurow Microfiber Salon Towels are 16 by 29 Inches, Black, Pack of 10. They are our favourites, but you should also check out this comparison of top-quality towels.
---
•Paraffin Pot
A paraffin pot is essential for add-on services.  They can be inexpensive and pay for themselves in a short period.
REVLON Moisturizing Relief Paraffin Bath– I have had this same pot for ten years, and it's still in perfect condition. You can buy refills at your beauty supplier or online. I always bought large freezer bags at the dollar store to use once I ran out of the original plastic baggies.
Therabath Professional Thermotherapy –It's quite a bit bigger. It is always a safe temperature range that allows the unit to run 24 hrs daily. It has a lot of great reviews and looks like good quality.
---
• Lamp
Good lighting is essential to perform exceptional services.  It also prevents eye strain!
"Top Seller"  This little lamp is amazing.  It's on roller wheels and has a magnifying part.
"The Clip-on" I have a clip-on lamp just like it, and I love that I can clip it around the room and don't have a big base to work around. This lamp has sold over 4000 and has excellent reviews!
---
•Pedicure Station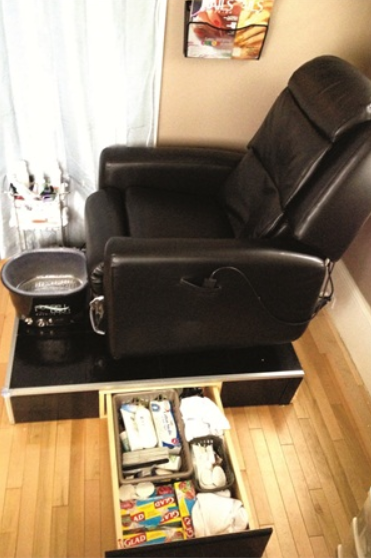 Space-Saving Storage Solution– Nails Magazine- April 2013
When you first start doing esthetics, you could either invest in an all-in-one chair or provide laydown pedicures (where the client soaks their feet first, then get up on a bed and lie down for a pedicure). You could also work with a carpenter and build one yourself.  This is what I did.  Nails magazine did a little write-up about it once.
Noel Asmar Signature Pedicure Bowl– This portable bowl is an excellent space saver.  It's perfect if you are also doing mobile pedicures.
PediCute Portable Foot Spa-Utilizing only 1.5 gallons of water, the removable tub holds the perfect amount of water and is still large enough to accommodate a men's size 13. Three (3) levels of vibrating aqua massage and heat ensure a luxurious and invigorating foot soak. Adjustable-height center footpad positions the foot perfectly without the technician ever having to support the client's leg.
Check out more stand-alone pedicure bowls
"Pedicure Chair" You can also get inexpensive chairs already built for a bowl or a footsie bath.  These are pretty compact and light.
Check out our blog post if you need more ideas for a pedicure station.
---
Common forgotten purchases
Business Insurance– It is crucial! You need to protect yourself, your business and your clients. We highly recommend Hiscox Insurance. It's effortless to set up and surprisingly inexpensive!
Accounting Software– Get started on the right foot with easy-use accounting software.  Check out FreshBooks Features.
---
Amazon Prime is worth the investment.
 If you plan on purchasing regular products from Amazon, you might want to invest in a Prime Membership. While I don't buy professional products from Amazon, I do buy a lot of equipment and disposables, and it is really helpful to get the times delivered in 2 days with free shipping! (Sometimes faster)
Printable Supply Lists
Nail salon manicure equipment supply list